Title: Mustards Grill Napa Valley Cookbook
Author: Cindy Pawlcyn
Publisher: Ten Speed Press
ISBN: 978-1580080453
Pages: 288
Genre: Non-Fiction /Cookbook
Synopsis
As anyone who has spent time in Napa Valley knows, Mustards Grill is an institution in the wine country—the friendly restaurant where locals first started going for a full plate of fabulous food and a glass of Napa's finest. Chef-owner Cindy Pawlcyn, founding chef of San Francisco's original Fog City Diner, put down her roots in Napa over 15 years ago, bringing her midwestern sensibility and flair for reinventing American food to the valley. Ever since then, Mustards has been affectionately known as the fancy rib joint with way, way too many wines.
About the Author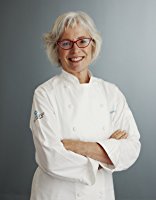 One of my earliest memories is of sitting in the backyard garden in Minneapolis with a salt shaker while my dad picked perfectly ripe tomatoes hot off the vine. I can still taste the fresh, warm red flesh seasoned with a sprinkling of salt…
My passion for seasonal, farm-fresh flavors has never waned. Through all those years in school, college, training in France, stints in other chefs' kitchens, a transplanting in the West, and all the sweat and tears of running my own restaurants – I'm still just a kid in a tomato patch.
For the past 30 years, I've cultivated gardens and restaurants in California's San Francisco Bay Area, setting deep roots in Napa Valley with Mustards Grill, Cindy's Backstreet Kitchen and my newest sweetheart, Brassica. Helping people create unforgettable celebrations is a natural (and joyful) extension of what we do, and serving as Culinary Partner for the Monterey Bay Aquarium (and their important Seafood Watch program) is a very special honor.
Thanks to the wonderful teams at my restaurants, I've also been able to nurture the part of me that seeks out distant corners of the world, bringing home flavors at once exotic and familiar. I've managed to write five cookbooks – Mustards Grill Napa Valley Cookbook, Fog City Diner, Big Small Plates, Cindy Pawlcyn's Appetizers, and Cindy's Supper Club: Meals from Around the World to Share with Family and Friends – bring the flavors I love to kitchens far and wide.
Each endeavor is distinctly different, and I love them all equally. Just like kids.
Learn more at cindypawlcyn.com and sign up for monthly newsletter, Cindy's Kitchen.