Title: The Girl Who Drank the Moon
Author: Kelly Barnhill
Publisher: Algonquin Young Readers
ISBN: 978-1616205676
Pages: 400
Genre: Young Adult/Childrens
Synopsis
Every year, the people of the Protectorate leave a baby as an offering to the witch who lives in the forest. They hope this sacrifice will keep her from terrorizing their town. But the witch in the Forest, Xan, is kind. She shares her home with a wise Swamp Monster and a Perfectly Tiny Dragon. Xan rescues the children and delivers them to welcoming families on the other side of the forest, nourishing the babies with starlight on the journey. One year, Xan accidentally feeds a baby moonlight instead of starlight, filling the ordinary child with extraordinary magic. Xan decides she must raise this girl, whom she calls Luna, as her own. As Luna's thirteenth birthday approaches, her magic begins to emerge--with dangerous consequences. Meanwhile, a young man from the Protectorate is determined to free his people by killing the witch. Deadly birds with uncertain intentions flock nearby. A volcano, quiet for centuries, rumbles just beneath the earth's surface. And the woman with the Tiger's heart is on the prowl . . .
About The Author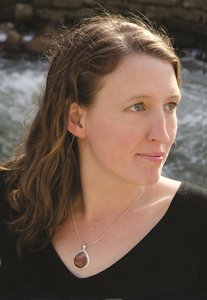 Kelly Barnhill writes books. It is a strange job, but, to be fair, she is a strange woman, so perhaps it makes sense. She is a former teacher, former bartender, former waitress, former activist, former park ranger, former secretary, former janitor and former church-guitar-player. The sum of these experiences have prepared her for exactly nothing – save for the telling of stories, which she has been doing quite happily for some time now.
She has received writing fellowships from the Jerome Foundation and the Minnesota State Arts Board, and was a 2015 McKnight Writing Fellow in Children's Literature. She is the winner of the World Fantasy Award, the Parents Choice Gold Award, the Texas Library Association Bluebonnet award, and a Charlotte Huck Honor. She also was a finalist for the Minnesota Book Award, the Andre Norton Award and the PEN/USA literary prize. She is the author of the novels THE GIRL WHO DRANK THE MOON, THE WITCH'S BOY, IRON HEARTED VIOLET and THE MOSTLY TRUE STORY OF JACK, as well as the novella, "The Unlicensed Magician".  She has also written a bunch of grownup-ish short stories of various descriptions (Literary, Speculative, Odd and Otherwise) that have appeared in a variety of venues, as well as  essays, poetry, and a small collection of very strange nonfiction books for elementary students. She is a teaching artist with COMPAS, a statewide community arts program.